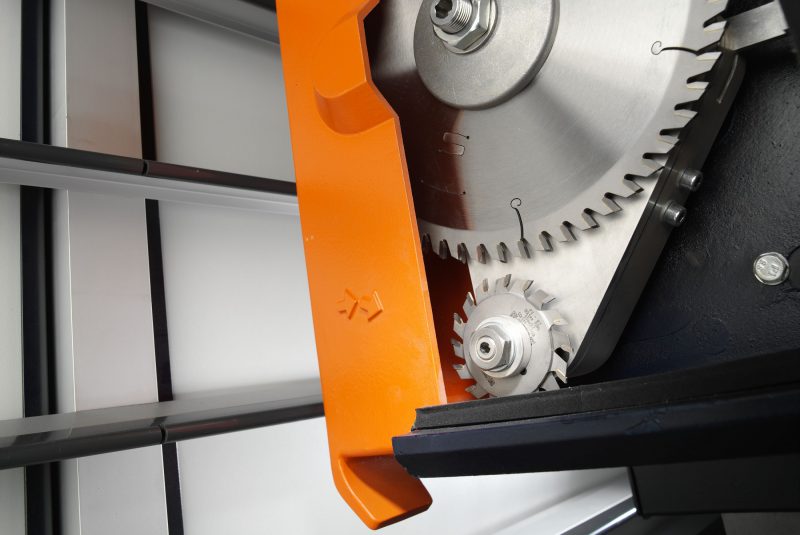 Harwi Orca vertical panel saw
The Harwi Orca is a powerful panel saw with an IE3 energy-efficient 4 kW motor that drives the saw blade indirectly. The indirect drive of this vertical panel saw provides a transmission of 5000 rpm. A good choice when you are dealing with intensive sawing processes and high accuracy.
Tailor-made sawing with the Harwi Orca 
The combination of the robust frame structure and the stable saw beam ensures that the Harwi Orca always makes a perfect cut. Because of its low-maintenance nature and long service life, interior finishers and carpentry factories have been fond of our Orca panel saws for years. If, in addition to accuracy, the health of your employees is of paramount importance to you, check out the advantages of our Harwi Ultra, with extensive dust extraction.
Working ergonomically
The Harwi Orca is equipped as standard with a reiteration stop and stops for horizontal cuts. This ensures that the Harwi Orca vertical panel saw can perform repetitive sawing work quickly and efficiently. The midway fencees and ergonomic saw handle ensure a good operator posture. This makes the work of your employees efficient and healthy. For lighter sawing work, the Harwi Piranha is a very suitable option.
We will be happy to tell you more about the Harwi Orca vertical panel saw and all other Harwi vertical sawing machines. Click below for a brochure or contact us for an appointment. We will gladly provide you with all the information you need.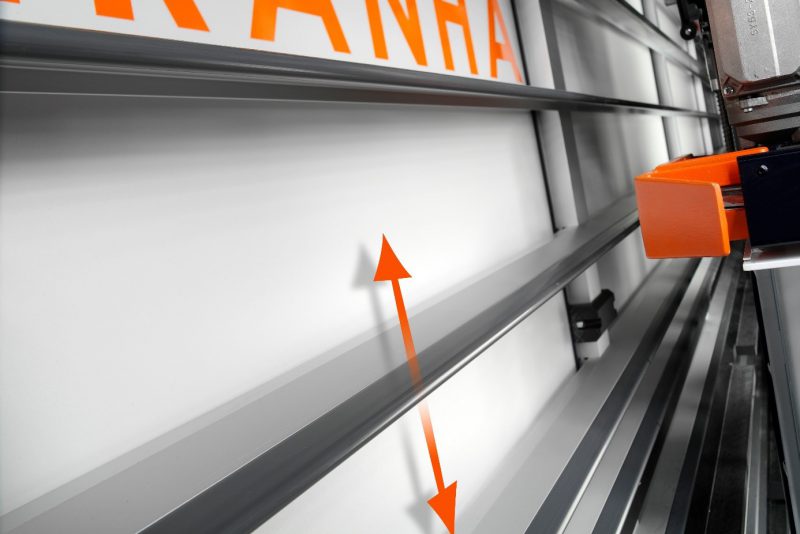 Available in several models
The Harwi Orca is available in four versions, specified according to the dimensions of the material to be processed. The Orca 1250, 1550, 1850 and 2150.
Basic
Inclusive
Motor 4 kW
Moving backpanel
Cutting depth 55 mm
Carbide tipped saw blade Ø 250 mm
Electro clamping horizontal
Panel mover
Midway fences 2x
Length stop analog
Reiteration stop
24VDC power supply for extraction unit
Optional
Transport rollers foot operated
Premium
Inclusive
Motor 4 kW
Moving backpanel
Cutting depth 55 mm
Carbide tipped saw blade Ø 250 mm
Electro clamping horizontal
TRK dust extraction horizontal
Panel mover
Midway fences maximum
Transport rollers foot operated
Length stop analog
Reiteration stop
24VDC power supply for extraction unit
Optional
Digital read-out
Scoring saw
Pro
Inclusive
Motor 4 kW
Moving backpanel
Cutting depth 55 mm
Carbide tipped saw blade Ø 250 mm
Electro clamping horizontal
Digital read-out
Panel mover
Midway fences maximum
Transport rollers pneumatic
TRK dust extraction horizontal
Length stop analog
Scoring saw
Reiteration stop
24VDC power supply For extraction unit